Lumo Lift Posture and Activity Tracker
The easiest way to improve your posture! It's like having a coach just for you and your posture!  It's also an activity tracker that works with a free iOS and Android app to help you sit straighter, stand taller, and look better. Improve your posture in as little as 14 days!
How Lumo Lift Works: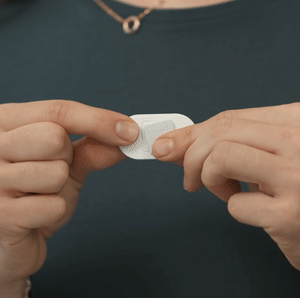 Wear Lumo Lift. Attach your Lumo Lift onto your shirt with the magnetic clasp.
Set your target posture. Get into your best posture and set your target posture.
Start posture coaching. Lumo Lift gently vibrates when you slouch.
Track it all! Track your posture hours, steps, distance moved, and calories burned.
 Included in the package:
Lumo Lift Sensor

Brushed Aluminum Clasp

Black Matte Clasp

USB Charging Dock
Specifications
Compatibility: iOS 10 or above and Android 5.0 or above
Memory: 

Up to 4 weeks of local activity data storage. Lifetime activity data storage in the cloud. 32MB of flash memory

Battery: 

1-2 days on single charge. Zero to fully charged in 2-4 hours
Materials & weight: 

Lumo Lift sensor -Electroplated thermoset plastic. 11.50g. 

Magnetic clasps - Solid aluminum. Rare Earth magnet. 1.00g
Dimensions: 

Sensor: 1.75 in x 1.00 in x 0.5 in.  

Magnetic Clasp: 0.6 in x 0.6 in x 0.1 in
Warranty: 1 year limited warranty
**This is Chris, Customer Service Agent. The most common question I get about the Lumo Lift is "does it need to be connected to my phone to work?" No, it doesn't.  It runs independently most of the time.  It does need to be connected in order to sync the data to your account and for updates.